How These 8 Restaurants Pay Homage to Their Past
Many of the neighborhoods we live in and buildings that surround us have stories to tell. While most of these colorful pasts are hidden inside books and reference guides, some are brought to life by the bars and restaurants that have found homes in these local spots, allowing us to consume our history alongside a beer or a steak.Here are eight restaurants that pay tribute to the histories of the buildings they now occupy, in tasty ways, of course: 
From a Brothel to Madam Bonnie's
According to Sandee Wilhoit, a historian and Gaslamp tour guide, The Hotel Lester expanded in 1915 with 23 rooms for tourists visiting the Panama-California Exposition. In the early 1920s, Bertha "Bonnie" White moved to San Diego in hopes of opening a "respectable" brothel to provide for her large extended family. While she was madam of the Hotel Lester from 1930-1940, Bonnie found success in her business. In 1940, a new police chief was elected into office who did not take kindly to her type of business and promptly shut it down. Now, the location hosts Madam Bonnie's, a new bar and restaurant that taps into its colorful past by focusing on craft cocktails to continue the "respectable" debauchery of the Gaslamp Quarter.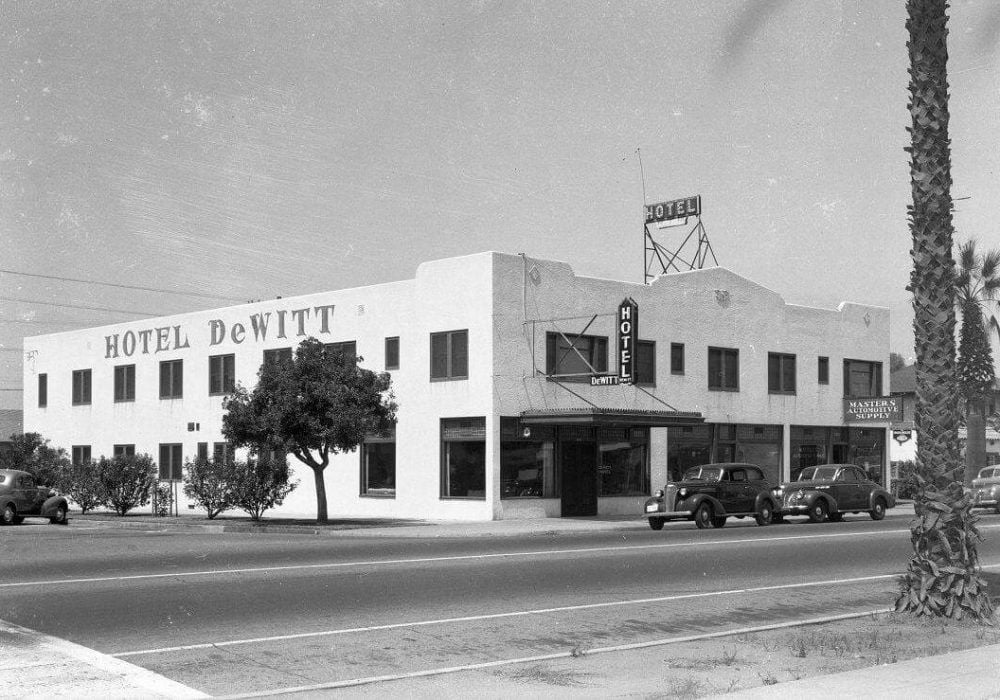 Oceanside Historical Society
From a WWII Communication Center to The Switchboard Restaurant 
The Switchboard Restaurant is tucked within the Fin Hotel in Oceanside, which was commandeered as a switchboard center for the future Camp Pendleton Marine Corps base in support of the war effort during World War II. The Oceanside Historical Society's director, Kristi Hawthorne, shared that The Fin Hotel was one of the first hotels along the 101 Highway, built in 1927 as the Keisker Hotel. Now, the Marine veteran-owned restaurant serves as an ode to the original switchboards used for communication during the war, the bar lined with brass toggle switches. 
From a Military Mess Hall to Stone Brewing Liberty Station 
The Liberty Station location of Stone Brewing World Bistro & Gardens is located in the building that used to be the mess hall at the Naval Training Center. One of the first locations built at NTC, the Mess Hall began serving recruits in 1923, cooking up dishes like Spanish rice and pineapple upside-down cake, as described in Jennifer A. Garey's book San Diego's Naval Training Center. The city's NTC station was the only base with a program for mess management specialist training and won awards for food service excellence along with training graduates that went on to bake at the White House. In the late 1990s, the Naval Training Center transitioned into the community hub we know today as Liberty Station. Nowadays, those with a military ID can enjoy some hoppy IPAs at Stone Brewing for a discounted price.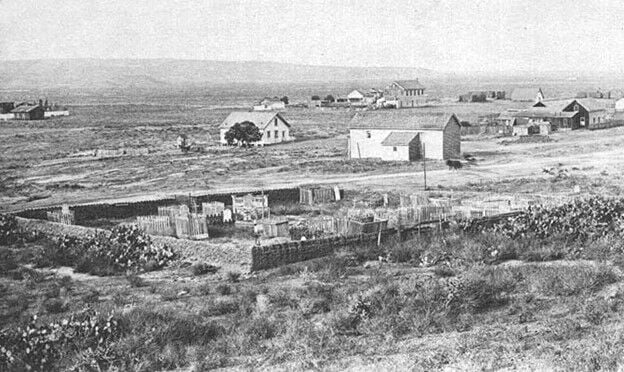 From a Cemetary to Oculto 477, a Spooky Speakeasy
Located next to El Campo Santo Cemetery is Tahona, home to speakeasy Oculto 477 which pays tribute to the 477 bodies buried nearby. Fred Grand, president of the Old Town Chamber of Commerce, confirmed that El Campo Santo Cemetery is one of San Diego's oldest cemeteries, established in 1849 and in use until 1897. As the city grew, the cemetery was reduced in size to make way for a streetcar line and the streets that we use today.A nearby historic plaque reads "Remembering the more than 20 Men, Women and Children who lie buried beneath San Diego Ave. Only Assemblyman Edward L. Greene was exhumed and placed within the new boundary of El Campo Santo Cemetery. These graves were discovered with the use of ground penetrating radar in 1993. The spirits Oculto 477 plays into its proximity to the cemetery, with names like Garden of Death and Oculto Zombie. 
From the Carriage Works building to GARAGE Kitchen + Bar
According to the Gaslamp Quarter Historical Foundation, on December 23, 1869, John D. Backesto purchased lots from Alonzo Horton for $300.00 that eventually became the Carriage Works building and now, GARAGE Kitchen + Bar. In 1902 Daniel W. Lyons and Newell Mathews purchased the space and carried a complete line of Studebaker vehicles, including buggies and large wagons. GARAGE Kitchen + Bar is outfitted with original wood, brick, and rusted metal to pay tribute to its past.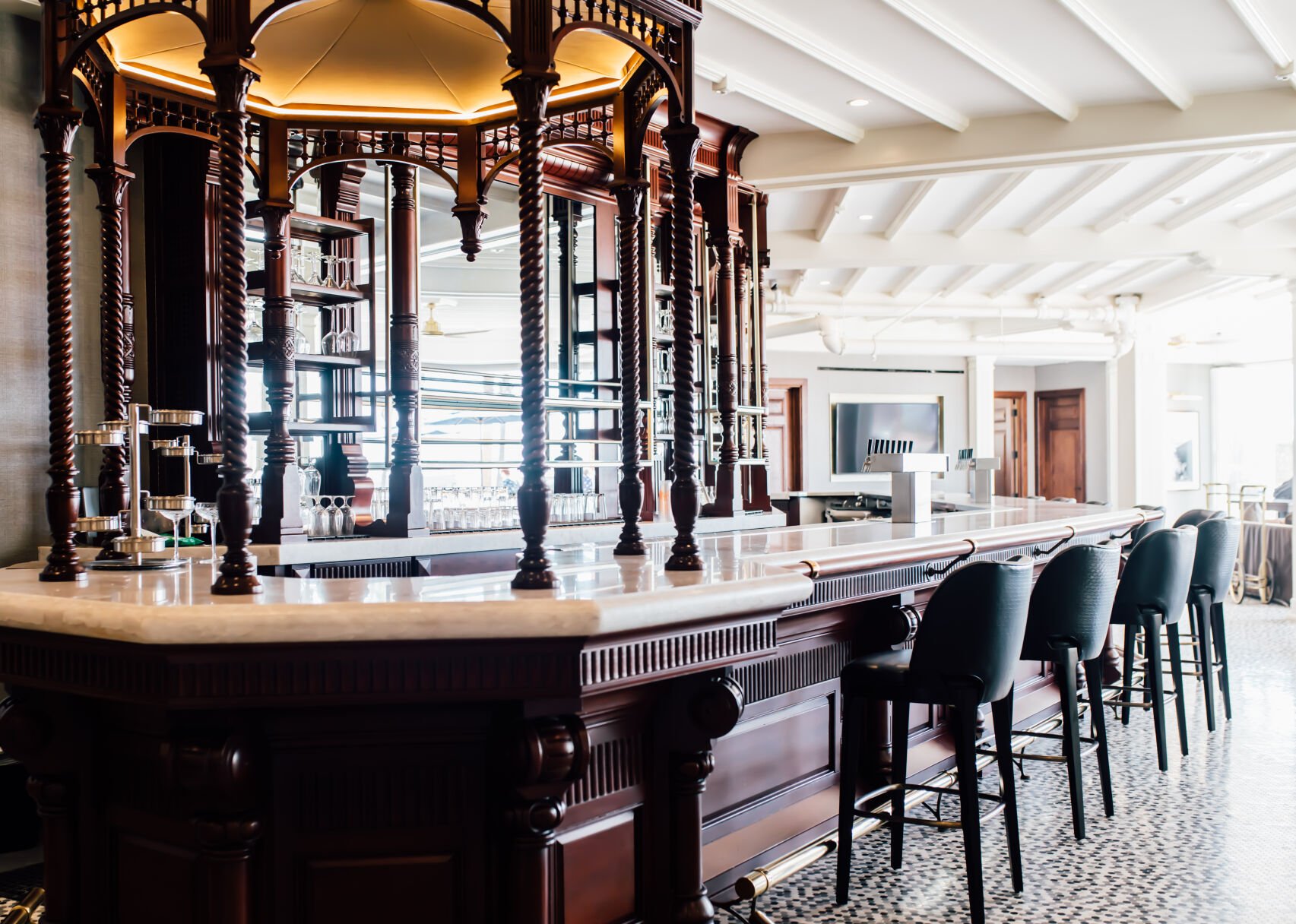 Coronado History from E. S. Babcock and Hampton L. Story to the Babcock & Story Bar
The iconic Hotel Del Coronado has tapped into Coronado's history with the Babcock & Story Bar, named for visionary founders E. S. Babcock and Hampton L. Story. According to the Coronado Historical Association, the peninsula was purchased in 1885 by Elisha S. Babcock, Jr., Hampton L. Story, and Jacob Gruendike for $110,000. While neither Babcock nor Story had experience in the hotel business, they were so impressed with the natural beauty of Coronado that they decided to build a magnificent hotel to be "the talk of the western world," as reported by The Del's historian, Gina Petrone. The Babcock & Story Bar's large outdoor patio offers up views of the natural beauty that inspired the development of Coronado by its founders.
From a Fictitious Brochure Babe to Miss B's Coconut Club
The Journal of San Diego History shares a compelling history of Mission Beach in an article by Zelma Bays Locker in 1975 which begins, "Meet Miss B. She is an alluring young lass who wears only a swimsuit and a provocative smile…Her fetching likeness adorns the cover of a real estate advertising brochure." That 1914 brochure is for San Diego's then new beach resort area and when the page is turned, Miss B's full name is revealed: Mission Beach. Miss B's Coconut Club on Mission Blvd uses the fictitious beauty as their muse for their vacation-inspired drinks, decor, and dishes.
Native American Heritage at Rincon Reservation Road Brewery
The Rincon Economic Development Corporation shares that Rincon Reservation Road Brewery was named after the trail their ancestors traveled over 14,000 years ago along the San Luis Rey River that ran from Warner Hot Springs to Oceanside. Rincon Reservation Road Brewery (3R Brewery) and its beer offerings pay homage to the heritage of the Native Americans and tell the story of the rich history of the tribe. The Valley Center location is on the Rincon Band of Luiseño Indians reservation.